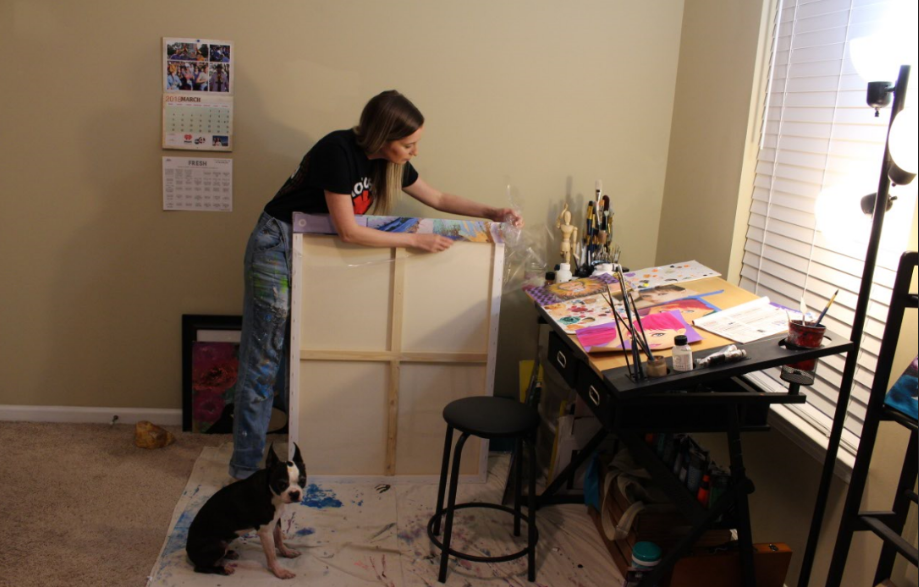 I have wanted an art studio for as long as I could remember. In my mind  I fantasized about a giant open room with white walls and tons of natural light where I could just fling paint wherever I wanted without having to worry about the cleanup. By nature, I am not the tidiest person, and over the years my art habit has made a mess of many of kitchens, bedrooms, garages and living areas… Beyond being able to make a mess, however, I wanted a dedicated space where I could lay out all of the materials I have, organize my tools and hang inspiration. At one point I looked into renting a studio space, but could not justify the cost when I was not bringing in any recurring revenue from painting.
Luckily, last year I moved into a home where I have a whole office to myself. I work as a marketing specialist from home, and this is the first time I have ever had my own dedicated office which is HUGE to me. Moreover, I now have ample room to set up my art studio in my office. I have often been intimidated by the term "studio" but I have come to realize it is whatever you make it. You don't need tons of money (although, don't get me wrong, you certainly can spend it with art supplies) to make your studio space, you just need some key materials, and a few organizational tools to get you set up for success. Below are a few of my favorite studio tools, that I hope will be helpful to anyone setting up, or looking to refresh their very own art studio.
Easel
Contrary to popular belief, all easels do not have to break the bank. I got mine years ago from Blick for around $60 and its lasted me over 8 years. Its portable, which I love for when I prefer to paint outdoors, and when I am not actively painting a canvas on it, I use it to display my new pieces.
Art Desk
This is one of those cases of an item I never knew I needed until I had it. It was given to me by my significant other this past Christmas and oh my word, talk about a game changer. The desktop itself moves and adjusts for all different angles so you can draw, paint, etc while sitting by making simple adjustments to the surface. It also comes with draws, a bottom shelf, and an extendable surface area, which I use for storage. My art desk has become the pillar of my studio- I don't know where I put anything before it. It allows me to organize and access everything I need so easily.
Plastic Drawers
If you have as much paint as I do, I highly recommend some basic plastic drawers. I got mine from Wal-Mart for super cheap, and I organize the individual compartments into paint types. It makes finding the colors I need so easy and gets them up off the floor.
Paintbrush Organizer
Hi I'm Sunny and I am a brush-a-holic. Honestly, I love them all- there are so many types, textures and sizes to explore, I admit I have far too many. That is what prompted my $20 Amazon purchase of a brush organizer. This contraption is amazing, at the moment I have it on the extendable surface of my art desk, it rotates so I can easily grab any brush I need, and it also has tiny compartments at the bottom for other application items like palette knives, sponges and scrapers.
Lighting
Natural light is the best, but if you are a night owl, or your space gets minimal natural light, invest in a good stand up lamp. I'll admit, this was not my idea, it was Rob's but I am ever so grateful for it.
Drop Cloths
As mentioned above, I am super messy. I also have an office with carpet (yikes!). For that I have Spot Shot, and a lot of drop cloths. First and foremost, its great because they catch a decent amount of the paint spatter, secondly, I think they make a cool design element. Call me corny but all of the marks left on them remind me of the work I have done, makes me feel happy to look at it.
Materials
The most important items in any studio are your tools! For acrylics I prefer Golden paints, oils Gamblin (with Gamsol medium). In terms of what I like to paint on– the verdict is still out. I have been messing around with wood as well as gesso board. For the most part I have been a canvas girl, and have been working up to bigger canvases over the past few months. Be on the lookout for some "big" pieces coming down the pike!
Is there anything I missed? Any tools that you absolutely love? Leave a comment below with your top recommendations!