Request A Commission
Currently accepting commission requests
I love bringing people's visions to life in my artwork. With past commissions, I have pushed myself to new levels by trying new things and seeking new perspectives.
My first commissioned piece was a historical depiction of George Washington praying at Valley Forge. Due to the level of detail needed, I determined this would have to be an oil painting, which I had previously had limited experience with. This piece challenged and rewarded me in more ways than I can say, and I am happy to report that its owner was delighted with the end result: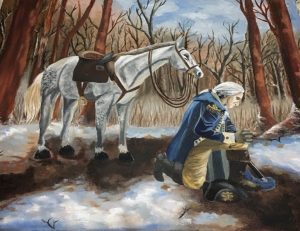 Another commission example is below, the request was for watercolor painting of a mermaid in a bubble bath. Being a big lover of mermaids, I was naturally excited– however, watercolor was a medium that eluded me a bit due to the lack of control compared with other paints. I started out with a watercolor pencil for the outline, than placed in water, followed by color and once dry, finished with a fine pen to outline the piece. For a final touch,I added gold flake to the starfish and sand to give the piece some sparkle and texture.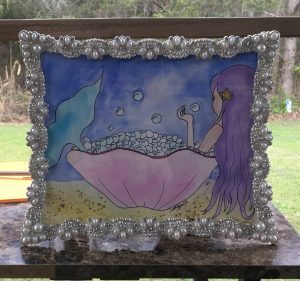 Interested in a commission for you or a loved one? Send me a message with the details and I will provide you a quote!